Aussie Brewer Bighead Brewery recently announced the world's first zero carb beer.  For all of you atkins or southbeach or whatever all those crazy diets are called, this could be just the thing you've been looking for!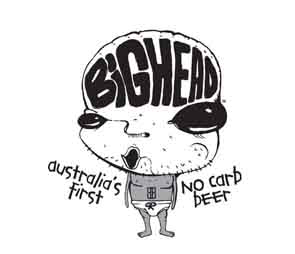 BIGHEAD is the brainchild of Burleigh Brewing Company
, an independent craft brewery based in Burleigh Heads on Queensland's Gold Coast.
Burleigh Brewing's CEO, Peta Fielding, said BIGHEAD's arrival would be welcome news for men and women across Australia who are conscious of their carbohydrate intake, but love their beer.
BIGHEAD is supposedly a full-flavored, full-strength lager that is 100% natural, free of additives and preservatives, and has a smooth, clean taste – with zero carbs and only 88 calories per bottle.  Pardon me if I'm a little skeptical here but have any of you ever tasted a full flavored low carb beer?  I guess if you're used to drinking such things, you might acquire the taste for them.  Anyway, with zero carbs, this could be a dream come true for dieting beer lovers.
BIGHEAD was also independently tested by Austrailian and New Zealand Food Standards authorities who validate it's zero carb claim.  According to the brewers themselves, "We use a very authentic brewing process to ensure all our premium beers are fresh and pure. And adding the no-carb element to our brewing involved even more attention to times and temperatures – and required plenty of patience."
 Anyone out there who's tried it yet?  I'd be interested to hear some reviews!
This entry was posted on Wednesday, December 17th, 2008 at 7:28 pm and is filed under
Beer
,
Useful Info
. You can follow any responses to this entry through the
RSS 2.0
feed. You can skip to the end and leave a response. Pinging is currently not allowed.