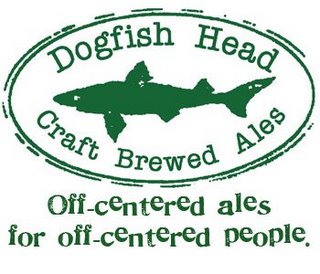 Dogfishhead Craft Brewery out of Milton, Delaware has some interesting things going on right now. Not only are they sponsoring an "Extreme Beer Fest," up in Boston in February, but they also have a brand new "off centered," beer on the the way which you could have the chance to name!
The guys over at BeerAdvocate.com, brothers Jason and Todd Alström, are hosting their sixth annual Extreme Beer Fest in Boston, Massachusetts sponsored by Dogfishead Craft Brewery. It takes place over an entire weekend and will occur on February 20 & 21, 2009, featuring Night of the Barrels on Friday (all wood-aged beers) and Sessions One & Two (over 100 extreme beers) on Saturday. Dogfish Head began brewing a new brew on December 9th, and will be debuting their new "Extreme Beer," at the Beer Fest.
Traditionally, all beer is brewed with four base ingredients (water, malt, hops, and yeast). Dogfishhead has prided themselves in creating "off-centered ales for off-centered people," and include all kinds of different ingredients to create their delicious brews. I myself am a big fan. "We've built our reputation for brewing extreme, exotic, extraordinary beers by willfully, purposefully, passionately thumbing our noses at pseudo-tradition," said Sam Calagione, founder and president of Dogfish Head Craft Brewery.
BeerAdvocate.com is also having a contest in collaboration with Dogfish Head to name the new brew and you can submit your suggestions! Here's some details of the contest from BeerAdvocate.com.
THE BEERInspired by a shared love and respect for America's extreme beer movement, Italy's emerging craft beer scene, and the kitchen sink attitude and devilish drinkability found in Belgian brewing, the collaborative recipe is the result of numerous emails and phone calls discussing the ingredients, final characteristics, and new ways to look at extreme brewing. Jason, Todd, Sam, and Bryan each provided unique spins to ensure maximum off-centeredness and deliciousness.
Ingredients:
– Maple Syrup (Grade A, Massachusetts)
– Chestnuts
– Green Peppercorns
– Korean Corn Tea "Oksusu-cha"
– Fawcett's Maris Otter Base Malt
– Dash of MFB Kiln Coffee Malt
– Liberty & Vanguard hops
– Dogfish Head's Raison D'Etre House Yeast Strain
– Aiming for 8% ABV
In addition to the straight-up version, a version aged on walnut wood chips will also debut on Night of the Barrels.
COMPETITION DETAILS
What's in a name? You tell us. Using what you now know about the beer, put on your beer geek hats on and send your suggestions to extremebeer@beeradvocate.com. Please include your BeerAdvocate.com member name or link to your profile. If you don't have an account, you can create one for free. The top names will be hand-picked, dropped into a poll, and publically voted on at BeerAdvocate.com, and the winner will be greatly rewarded.
EXTREME BOOTY
– A brief showering of fame and glory.
– Tap the firkin at Night of the Barrels.
– Two all-access, all-sessions, VIP passes to the Extreme Beer Fest.
– Complimentary brunch at the Post-Party.
– Two BeerAdvocate Gear sets (tees, hats, etc.).
– Patagonia Dogfish Head jacket.
– Two weeknight stay at the Dogfish Head Brewmaster's Suite in Historic Lewes, Delaware.
– Private VIP tour of the Dogfish Head Milton brewery by Sam Calagione.
RULES
– Be creative.
– All entrants must be 21+ with valid ID.
– All entrants must have an account on BeerAdvocate.com (creating one is free).
– Only one entry (suggestion) per person.
– All details subject to change without notice.
Competition deadline is Wednesday, December 31, 2008 @ Midnight EST, and the winner will be announced in January 2009. Good luck!
FOR MORE INFO
For more information on BeerAdvocate, Dogfish Head Craft Brewery, and the Extreme Beer Fest:
http://beeradvocate.com
http://dogfish.com
Contact: mail@beeradvocate.com